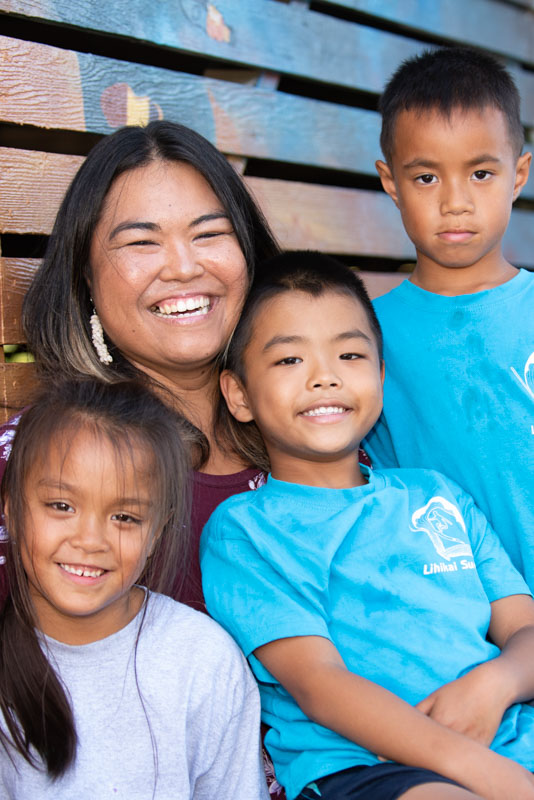 "Tammy is so creative and manages to make learning fun."
— Robyn Delima
Tammy Tanaka
Program Manager
From studying streamlife in Honomanu, to caring for kalo in Waihe'e, and competing poetry contests on O'ahu, Tammy is continuously coordinating unforgettable experiences for Maui Hui Malama's youth. No matter what she is challenged with, Tammy's goals are simple—to meet each youth where they are, to encourage and support them to try new things, and to make sure they understand that they belong to the Hui Malama 'ohana.
So how is Tammy qualified for her job?
She would tell you that her most important credential is that she was born and raised in Happy Valley to a farmer dad and state worker mom who believed in the youth of their community and provided opportunities and support to those who had neither.
Tammy is extremely grateful to be a part of Maui Hui Malama and for the opportunity to continue the kind of give-back work she grew up watching her parents do.
In her free time, Tammy enjoys going on "biki" ventures with her son, Luke Hibiki Kealaula. She also loves hearing him laugh and watching him play and grow up with his "Hui Lama" friends.
"Tammy can fill a room with contagious laughter in a second. To be able to bring such positive energy while delivering such highly skilled services as a Program Director is much valued here at Maui Hui Malama.
She has impacted the lives of many youth. This has caused a ripple effect of strong skills and cohesiveness throughout our community. If I ever had the chance to present Tammy to the world, I would give her a big pretty trophy with 'Crazy, Awesome, Community Contributor.'"
— Chelsie Haunga Evans, Executive Director
"Tammy is an amazing role model for the kids that attend our program.  She is always positive with a "you can do it" attitude. You just can't help but smile when she is around."
— Jonnette Santos