Hui Malama provides supportive services to young adults so that they may succeed in obtaining a diploma through a public high school or the Community School for Adults so that those teens may realize academic and personal success, improvement of employment opportunities and personal achievement.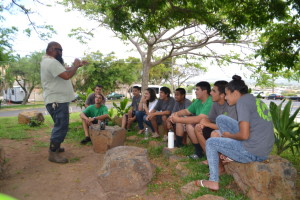 This is not an educational mission. Although the educational component may be significant as the point of entry for the participant, Hui Malama's goal is much broader in that it is to empower the participant to succeed not only in work but in life through developing an understanding and appreciation of the Aloha Spirit as defined by Hawaii Revised Statutes §5-7.5 as the coordination of mind and heart, which "brings each person to the self" and allows each person to think and emote good feelings to others.
By the end of their time with us, we see significant improvements in our participants in the following areas:
Ability to understand and honor perspectives that conflict with their own;
Increased ability to regulate their emotions and express their disappointment in a socially acceptable and respectful way;
Increased accountability;
Taking direction without challenging, criticizing, evading, ignoring authority;
Exhibiting appropriate physical space and interactions within a professional context; and
Proper etiquette (addressing people properly in word, tone, gesture).
The Aloha Spirit is a powerful tool within our community for directing and motivating positive change and development for both native participants and non-native participants.
Each year, Hui Malama serves between 125-150 highest needs youth. About 90% of the youth have learning, emotional, cognitive, social or physical issues that have not been identified or properly addressed in school settings. Between 50%-70% of our youth have been displaced or are living in unstable living conditions due to parental discord, abuse or violence at home or school, chronic health or mental health issues, or some extreme traumatic event related to a trusted caregiver or school official.
Our participants represent the diverse and multi-ethnic population of our island including those of Hawaiian, Portuguese, Japanese, Chinese, Filipino, European/Caucasian, Latin American, African American, Mexican, and other Pacific Islands ancestry.
Hui Malama serves youth with public school records of poor attendance, disruptive behavior, or both. It is not uncommon for participants who come to Hui Malama to report that in the past they had been habitually truant, frequently attended school while intoxicated, used cell phones in class, or regularly slept during class. Hui Malama believes that these behaviors stem from negative world views and poor attitudes often consistent with the participant's experiences at home or within their learning environments. Without this intensive, holistic and individualized intervention, such participants are unprepared to complete their high school diploma or GED and are highly likely to be at risk of life of unemployment or underemployment. Failure to obtain requisite basic education or enter the workforce leads to youth remaining or entering into expensive social service, criminal justice, mental health, and public housing and public assistance systems into adulthood. The public purpose served is to transform these forgotten youth to be positive contributors to economy, environment and community by redirecting the path that they are currently on which leads to dependency on assistances and social services.
Hui Malama utilizes a tiered approach to enrollment to ensure that current educational, youth development and work preparedness offering from already utilized services are in fact unable to meet their needs and develop their strengths. Through acting as a hub of community services, support to caregivers, and facilitator between other community providers, we are able to successfully coordinate holistic services so that youth can positively contribute, perform and succeed at their home schools. Hui Malama prioritizes services to participants who have nowhere else to go due to their highly negative experiences during elementary and middle school years, high absenteeism from school due to being 3-6 years behind their grade level and/or highly complicated personal and family situations.
Hui Malama takes referrals from state and county agencies – taking the youth that other systems have rejected, refused or found unfit to attend their programs. Hui Malama works with families who are no longer welcome or eligible to other programs and who would otherwise be unsupervised and without any academic/behavioral development activities during the school day. Due to the growing needs, complexity and severity of our most invisible and forgotten youth over the past two years, we have increased the hours, comprehensiveness and breadth of our services to do whatever it takes to address participant needs and build on their strengths. Services are highly individualized and involve significant time and resources to convene, coordinate, supplement and attract a variety of supports and resources to create a continuum of support that scaffolds a lifetime of learning and development for each participant. Hui Malama, with other community resources, successfully re-integrates youth into public school, private school, online charter or to obtain their GED through the Adult school.
Hui Malama assesses and addresses all of the participant's needs, by coordinating critical services from multiple social services and educational institutions to achieve goals and address basic needs, health care, social services, behavioral health services, housing, education, and employment. It is important to note that participants come to Hui Malama with significant behavioral and social challenges and are significantly behind in social skills, study skills and academic performance.
Test Preparation and Tutoring
Participants complete a Customized Personal Plan (CPP) and are supported by educational counseling to participate in a variety of enhancement activities intended to increase academic success, boost important life skills, improve employability, and encourage positive community involvement. Project-based learning, hands-on assignment and career development opportunities are integrated into our test preparation services.
Life Skills / Workforce Preparedness
Career Development and Employer Mentoring are essential parts of Hui Malama's integrated experiential programs.
In order to develop participants' interests and expose them to local careers here on Maui, Hui Malama offers many experiences as part of our career development program. The purpose of this program is to introduce our youth to local employers in order to interest them in jobs in renewable energy, agriculture and other jobs that sustain and improve our community's environmental, social, economic and cultural condition.
Our youth interact with employers and employees from a variety of businesses in four ways:
Employer Speakers: Employers or their employees describe their business, how it promotes sustainability, their own educational/career path, job opportunities, and what makes employees successful and competitive in their jobs
Site Tours: Our youth will visit the site to learn more about the particular industry or business, and to observe employees in action
Job Shadowing: Based on performance and academic/career interests, participants are chosen to work in a small group or one-on-one to perform a discrete work activity with employee
Internship: Participants work with an employer or business to gain hands-on experience and build relationships with a potential mentor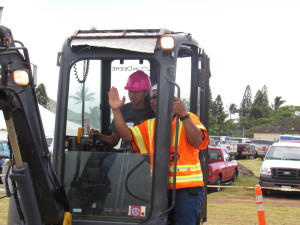 Our goal for our participants is to achieve personal success; increased communication skills, improved peer/family relationships, and improved self-confidence as a result of being involved in our Career Development and Employer Mentoring program.
Please call the office for an appointment to learn more about our programs: (808) 244-5911.